City of Nagoya PPP Business - Meijo Park "tonarino"
In April 2016, our company was selected in a City of Nagoya Competition as submitting the best business proposal for Meijo Park (North) business facilities, etc. in collaboration with Iwama Garden Create and Mount Fuji Architects Studio. Our company's proposal opened for business in April 2017.
We want to continue working together with citizens and tourists developing Meijo Park going into the future, focusing on the concepts of "food", "body", "green" and "gatherings".
In addition to a plaza that can host events and restaurant, cafe, convenience store and sports shop, various facilities such as a running school, sports massage studio, and shower rooms (with total floor area of 1400 m²) greet visitors to the park.
We will continue working on PPP business in the future for local development, including with the City of Nagoya.
Mizuki Noguchi, Honorary Director of "tonarino"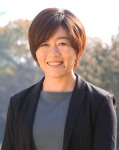 I am Mizuki Noguchi. I have been appointed as the Honorary Director of "tonarino". I feel very happy to be given this opportunity to mingle with you all in Nagoya, a city I love very much. Based on developing the park along with citizens, "tonarino" is operated based on four keywords: "food," body," "green," and "gathering." I took on the role of Honorary Director, believing in this concept and thinking that I , along with the people who visit this park, would like to put some of my energy into the creation of this park, and building people's physical strength and health. Currently, I live overseas and don't have the chance to visit Nagoya, but I really enjoy interacting with all of you. Thank you.